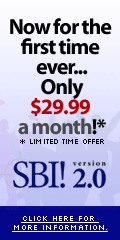 I just got a notice from SiteBuildIt (SBI) that they're offering monthly payments. If you're not familiar with SBI, you can take a look at by original SBI Review.
Now, I understand why they're doing this. People have trouble committing $299 to hosting and tools to create a website, even when the tools are top-notch. That isn't a problem with SBI, but with the general attitude of most Internet Marketers. The "gurus", the ones who make their money off the rest of us, create an image of instant success, so most people aren't willing to invest for the long-term.
So, a monthly payment for SBI seems like a good deal to those people. They can try out the tools and system month to month, and get out if they decide it won't work.
The problem is that building an online site that will earn money regularly takes time. My neglected niche sites (ebook to come, promise!) typically take six months to start generating income. Sites that are actively developed take less time, but we're still talking months.
In my opinion, anyone not willing to invest a year into an online project is dooming themselves to failure. Going month to month just means that the people looking for quick results will probably quit after a couple of months. But the person who paid for a year will keep going, and see that success happen.
So, if you've been wanting to try SBI but have been put off by the yearly fee, you can certainly try the monthly option. But if you're going to make a success out of it, you'll spend less by just going for the yearly fee to start.